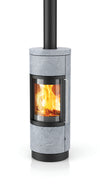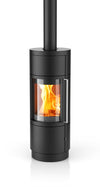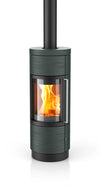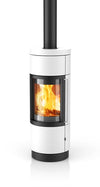 Hearthstone Bari small wood stove
Heats up to: 1,400 square feet
Hearth pad requirement: Ember Protection
Log Size: 17"
Catalytic
Burn Time/Heatlife: Up to 14 hrs
1.4 cubic firebox
Approved for Mobile Homes
Email for Quote
The Bari wood stove has a unique feature that allows it to rotate. This rotation allows positioning the body of the stove into 13 different positions, up to a full 90 degrees to either side.
TruHybrid™ Efficiency

The Bari incorporates HearthStone's TruHybrid™ combustion technology to bring a modern European EPA certified product to the North American market.
Unique Finishes
The Bari is offered with a variety of finishes including ceramic panels with various textures and colors, and of course, minimal black steel.
Natural Convective Heat
Hase stoves are built with 2 layers. The inner steel body of the stove provides structure controls the combustion of the stove. The outer panels finish the stove and create a convective air channel that circulates warm air through your home and reduces the outer temperature of the stove.
Specifications

Ash Pan: Included
BTU: Up to 35,000
Efficiency: 76% HHV
EPA Certified: 0.94 g/hr
Finish: Alabaster, Charcoal, Soapstone, Wintersea
Flue Exit Diameter: 6
Flue Exit Location: Top
HeatLife: 14
Stove Rotation: 225 degrees
Stove Type: Hase Wood Stove
Weight: 642 lbs
Resources: